Cabaret: Mad About Drag
Source: https://www.qxmagazine.com/2019/08/cabaret-mad-about-drag/
MAD DRAG is a fundraising night put on by the theatre industry
---
A MAD Drag Night is the uproarious annual charity event featuring some of the best and brightest of the West End, showcasing their incredible performance talents, but…in drag.
The night raises vital funds for The Make A Difference Trust – an HIV & AIDS charity; this week Jason Reid found out more from the organiser, David O'Reilly…
---
Hey David! For those who've never been to A MAD Drag Night, what can they expect? 
A fabulous night of dragulicous entertainment starring some incredible performers from some of the West End's biggest shows, all in aid of The Make A Difference Trust. This year the shows will take place in the stunningly beautiful Proud Embankment. Some of the performers have never done drag before so it's a really exciting creative outlet for them. These performers all have full-time jobs, so are rehearsing on the side to create the wonderful numbers that are featured in the shows.  
There's also a gaggle of fabulous celebs involved. What will they be doing? 
Every year we have a team of celebrity hosts that take the audience through the nights entertainment; this year we are so excited to welcome Faye Tozer from Steps, This Morning favourite Doctor Ranj and Holby City star David Ames. Also, we are so delighted to welcome back Tom Read Wilson from Celebrities Go Dating, star of stage and screen Harriet Thorpe, and comedian Miss Rory.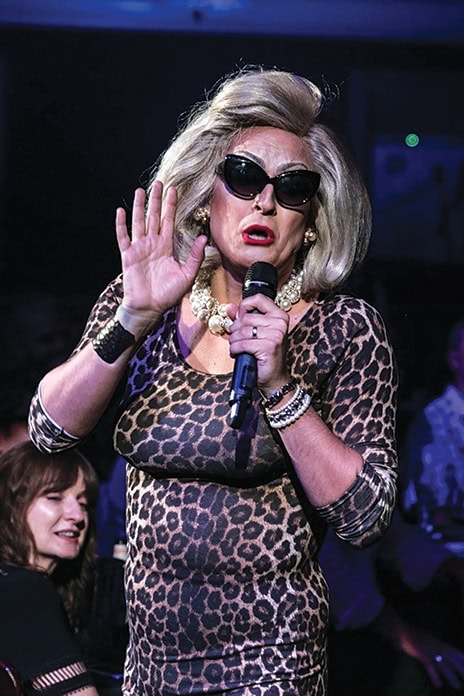 Tell us a bit about the charity and how it came to be.
The charity was set up as the theatre communities response to the AIDS epidemic in the 80's. Over the past thirty years they have grown into an organisation that supports people living with HIV and AIDS not only in the UK but Sub-Saharan Africa. At present they have produced another production of 'Are You Positive?' – an HIV and sexual health awareness play that will tour drama schools across London; this is offered free of charge. The charity also provide theatres with free HIV testing kits, and they now also provide peer-to-peer support for anybody diagnosed with HIV. Amongst all of this they provide bursaries and grants to HIV research and support charities. 
As an HIV+ positive person myself it's good to see that whilst some charities are sadly struggling as the disease becomes ever more manageable, others are thriving. What are the current and future goals for the charity? 
As the disease becomes more manageable the ignorance to it will grow. The charity have always and will continue to offer sexual health education, ensuring that people are armed with the facts. Whilst we are a long way from the horrendous and tragic years when this disease came to its height, the charity must continue to offer education and research into HIV. Education is key and education is power. Encouraging free testing and providing kits to do so is a fantastic way of helping people know their status. Whilst the awareness of HIV has grown, I still think that educating will be the biggest prevention. 
Drag is big business right now, and that has filtered through to the West End. Do you foresee more shows with homegrown queens? 
Drag has grown so much over the years and evolved into a wonderfully bright and eccentric art form. Whilst Drag Race is great, I think our homegrown drag queens are incredible. I think sometimes people forget that drag was around before RuPauls Drag race, and every night all over London drag queens take to various stages to perform. I was so delighted to see Jamie have homegrown queens appear in their show, and they are all incredible. It would be great to see more drag queens featured in commercial West End Theatre but until then you can always come and see West End performers in A MAD Drag Night
Who's your favourite drag queen of all time?
Okay this is an incredibly hard question so I'll give two answers for different reasons: Panti Bliss is an incredible Irish drag queen who was at the front of the Vote Yes Campaign for Equal Marriage in Ireland. And, Miss Rory, who's hosting the event, is one of the funniest queens I have ever met and is a beautiful person.
A MAD Drag Night is on Sunday, 18th August at Proud Embankment, 8 Victoria Embankment, London WC2R 2AB 
The post Cabaret: Mad About Drag appeared first on QX Magazine.
<
p align="left">Source: https://www.qxmagazine.com/2019/08/cabaret-mad-about-drag/