Coco Vadose
Source: https://www.qxmagazine.com/2019/09/coco-vadose/
The drag performer bringing black girl magic to Soho
---
Black Girl Magic's Coco Vadose talks style inspiration, working the Soho scene and giving a platform to performers of colour.
---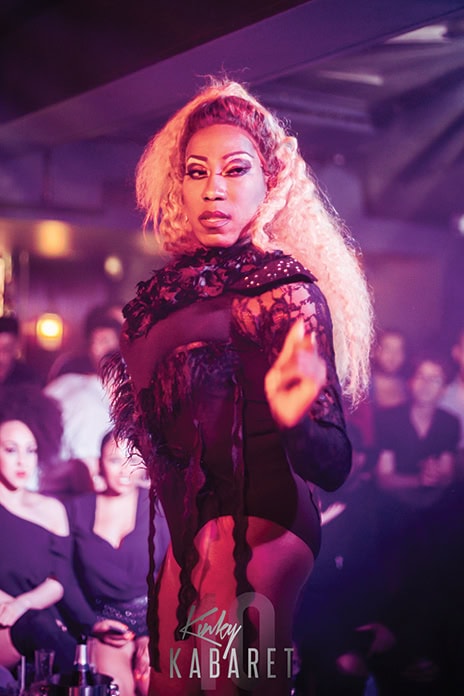 How would you describe Coco Vadose in three words?
Chocolate. Sensory. Overload.
What would you say is Coco Vadose's style?
Coco turns all types of different looks, depending on her set list/mood. She can go from Sophisticated Selina Kyle (Michelle P as Catwoman) to ratchet hoochy mama Cardi B realness all in a hot second, henny!
What got you on to performing as Coco?
I trained as a musical theatre performer so entertaining has been in my veins since I was a kid. I was asked to put a show together a few years back for Freedom and it's basically gone from strength to strength.
What's the key to killing a lipsync?
It's actually quite difficult to become a fierce lip sync assassin! It takes hours of practice, listening to every intake of breath, melodic dialogue and trying to embody that artists' character whilst infusing your own personal flare on top of all of that! Add a high-kick and a shablam and you are ready to SLAY!
Who are the five celebrities or drag icons you'd have join you for a bottomless brunch, and why?
Beyoncé, because it's Beyoncé! Janet Jackson 'cause she made me want to become a performer. Alan Carr, he'd be hilarious and would keep everyone chatty! Zac Efron because I'm gonna' need to flirt with somebody whilst I'm drinking all that Prosecco! And Bianca Del Rio because she's a funny queen with a viciously quick tongue and she'll keep us all on our toes.
Working the stage of a Soho bar can get a little crazy. Can you think of any nights that got particularly out of hand?
Every night at Freedom Bar, Soho is a crazy fun atmosphere – whether it's my Wednesday night show, a bank holiday weekend or payday Friday. I particularly LOVE Pride at Freedom – it's mad busy but full of every kind of person; all colours, creeds, shapes and sizes accepting LOVE from their fellow neighbour.
Give us your top three lipsync right now.
Ariana Grande – God Is A Woman
Lizzo – Juice
Cardi B – Money
SPLAY. So, your show Black Girl Magic is a HOOT. Tell us why you decided to put it together?
There are some fantastic shows on a Wednesday at Freedom but I wanted to do a show that spoke to my 14-year-old self – learning routines in my bedroom and pretending I was in my own music video. Black Girl Magic is basically 3 sets of me living out my Pop Princess Fantasy. From Britney Spears to Beyoncé, we have something for everyone to enjoy.
Do you think the London scene gives enough of a platform to performers of colour?
Definitely! More so now, than ever before! I think having the ability to be diverse in the art of drag in the club scene means there's room for every type of act, regardless of colour. But there are certainly some fierce queens of colour out there!
Finally, what can we expect from your upcoming show at Freedom Bar?
Expect a kiki, filled with Grecian goddesses, high kicks, splits and the occasional death drop, with yours truly at the helm.
Coco Vadose is performing at Freedom Bar, Soho (W1F 0TA) on Wednesday, 11th September.
The post Coco Vadose appeared first on QX Magazine.
<
p align="left">Source: https://www.qxmagazine.com/2019/09/coco-vadose/