Libidex – the latex brand taking the fetish world by storm
Libidex – the latex brand taking the fetish world by storm
Source: https://www.qxmagazine.com/2019/08/libidex-the-latex-brand-taking-the-fetish-world-by-storm/
Libidex are pioneers in the fetish world. Their unique, artful garments are lovingly, intricately and ingeniously made. They specialize in gear made from latex, for anyone in the fetish community who wants to try something squeakily different.
Fetish and fetish wear are now more popular than ever, even filtering into the worlds of fashion and pop culture.
We spoke to company owner Simon Rose to find out more.
---
Hey Simon! For those who don't know, give us a brief history of Libidex and what you do.
Libidex was founded in 1989 quickly establishing itself as the world's leading latex fashion designers & makers of great fetish clothing from rubber classics to hard and heavy. I took over the business in 1994, I am the company's director and head designer.
More and more young people are getting into fetish these days. Why do you think that is?
I believe this is due to the natural development of things. Nowadays latex clothing is everywhere, music videos, films, adverts, celebrities, graduate and mainstream fashion collections, video games, you name it. It is hard not to notice. Young and old have been exposed to Fetish fashion in a more organic way and it has become part of their everyday lives. Latex clothing today is widely celebrated and no longer stigmatised as the risqué dirty little secret that it used to be. And what folks see on their idols and on telly, they also want for themselves. For some is also a lifestyle, latex simply put, turns them on, the smell, the look, the feel, you get the picture.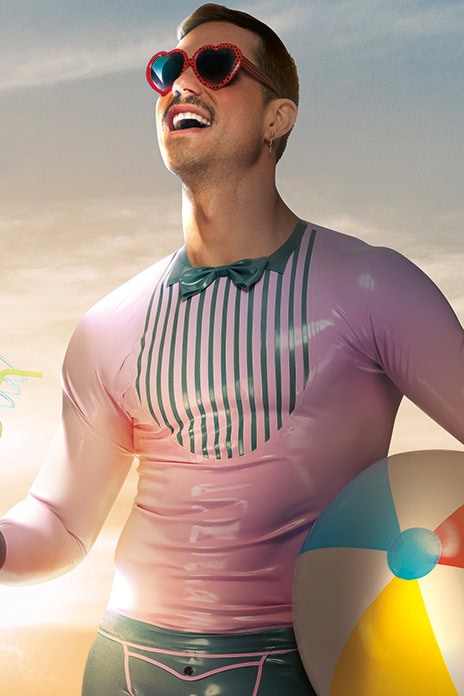 Why is fetish important?
To break barriers, to show people that is perfectly normal to have different tastes in what you wear and how rubber clothing can spice up your sex life. We are not all the same. Some like it soft others like it hard. Fetish allows you to explore your fantasies and find what really turns you on. We should all embrace our fetishes.
How are your products created? Moulds, stitching, glue?
At our design studios in Islington we start the creative process by researching, designing, pattern making, then we cut the first sample out of a latex sheet which is then hand glued. Every item is handmade.
Where do the design concepts come from?
This will depend which collection we are working on. Now we are just finishing our new Surfsuit range. The concept for this is Fetish meets Fashion, so you can fuck and party in your favourite Libidex garment all at the same time.
What do you want people to get out of your products?
Their penises to start with…only joking! Libidex is world renowned for its quality as well as their unique sense of fun and style while still being primarily a fetish label.
Finally…how can we find out more and purchase products?
We have 2 websites and a shop in Covent Garden. For our "off the peg" range please go to latexexpress.com or in person at Liberation 49 Shelton Street, WC2H-9HE. For made to order items where you can choose size, colour zip options etc, in fact, millions of choices and permutations please visit libidex.com. You can also e-mail us on sales@libidex.co.uk if you have any queries.
The post Libidex – the latex brand taking the fetish world by storm appeared first on QX Magazine.
<
p align="left">Source: https://www.qxmagazine.com/2019/08/libidex-the-latex-brand-taking-the-fetish-world-by-storm/